Glulam is durable and versatile material for demanding timber construction. It is used in a variety of applications in industry and agriculture to beautifully designed residences. It is popular in garages or stock frame constructions. Glulam is a strong and weatherproof building material and it's the best choice for industrial building.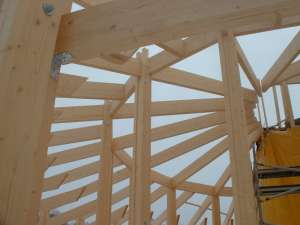 Maikaar greenhouses are designed to allow cultivation over the entire width. The benefit of this is seen during the winter. Snow does not accumulate on top of the plastic cover and arched frame but flows down. The height of greenhouses is suitable for growing tomatoes and other height demanding plants
The glulamstructure is a durable and ecological material for boat shelters. The product is light, it does not damage the boat, and it is also very easy to assemble. The boat shelter is assembled with bolt and screw joints, and is therefore easy to dismantle and assemble whenever needed, and especially, if the shelter is not needed at all during the boating season.
Building a greenhouse doesn't need a construction permission or a foundation. Greenhouses are delivered as much pre-assembled as possible. Delivered in 3 parcels, of which the largest is 5 m long. The greenhouse can be delivered as cargo, or it can be picked up from the manufacturer. Assembly guide is included.